The Sailors: Amateur British & Irish Yachtsmen Before World War One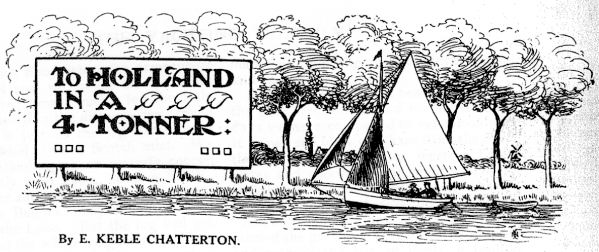 With Illustrations by Norman S. Carr.

IT happened on this wise. I had long wanted to see Holland and to become acquainted with its ships and men, but this year there were reasons why I should visit the Netherlands for the purpose of making a special study of a matter not wholly unconnected with ships and craft. The many museums, art collections, and libraries of the Netherlands would doubtless afford a very great treat, and yet I was unhappy at the thought of having to be deprived of my annual summer cruise. The obvious solution occurred - Why not attempt both projects and sail thither?

The idea seemed instantly tempting, but the Vivette, already described in the YACHTING MONTHLY for December, 1908, was none too big a craft for the long journey between the Solent and the Zuider Zee, and, since the British summers have consistently continued on the down grade for the last few years, we might expect to be delayed in ports many times along the coast and much time wasted. Therefore arrangements were made for a two months' cruise, and I was fortunate in being able to obtain again the assistance and companionship of Mr. Norman S. Carr, who had sailed with me to Cornwall and back the previous summer. At length, after taking on board enough provisions (excepting meat and other perishable commodities) to last us for about eight weeks, the Vivette was ready for sea.

The 9th of July, then, found us at Bursledon ready to get under way, but the first time the mainsail was hoisted the wire luff-rope burst at the clew, so, after overhauling the sail generally, I decided not to risk any further trouble, but condemned the whole thing and proceeded to find another to take its place. A morning was spent touring all the yards and sail-lofts of Southampton to no purpose, so with a temporary make-shift the old sail was made to set all right, and we decided to run down to Bembridge to see if we could get what we wanted there. With a N.E. wind we left Bursledon at high water, and arrived, as we had expected, off the Isle of Wight port at dead low water (springs). As we could not get in just yet awhile we hove-to and jogged about, off the entrance for a couple of hours, but finally, as it was now getting dusk and I did not care about feeling my way in at dark, I had a shot for it, but got picked up by the bar through keeping too far to the eastward. The drum-head buoy which I had been relying on had been taken away, and the wretched little channel is more puzzling now than ever. However, in less than an hour the tide had risen, and we bumped off the hard sand into deep water and picked up moorings in our old spot of a couple of years ago. Here we obtained a Ratsey & Lapthorn mainsail from Woodnutt's, got Burden to make us a squaresail to use instead of a spinnaker, and whilst this was all being done amused ourselves afloat and ashore and made the acquaintance of one of the keenest of the Bembridge Sailing Club men, who also had cruised in Dutch waters not many years previously.

We crept out of Bembridge with a light head wind from the N.W. and a fog, so that we could scarcely see the buoys at all. A local ketch ahead of us got aground on the falling tide and remained. We could see neither the Hampshire nor the Isle of Wight shore. The forts and all other landmarks were entirely obliterated, but we could hear the Warner Lightship blowing his foghorn, and took a bearing by that invisible object. Keeping on a S.E. course, but inside of the Warner to avoid the stream of traffic, we got down to within a mile of the Nab Rock Buoy, when the atmosphere had cleared and we stood on the other tack. Laying now a course for the Nab, which we heard in the distance, we arrived abreast of it just as the fog came down again in a kind of thick Scotch mist. We had been standing on an easterly course, but presently went about, heading SS.W., hoping after another landward tack or two to sight the Bullock Buoy and then lay a course for the Looe. But the fog had got so thick and the whole neighbourhood was resounding with foghorns - the sopranos of lightships and the deep basses of liners - that our navigation was made exceedingly anxious. Suddenly ahead out of the fog appeared a pilot craft brought up. We hailed him to give us a bearing for the Bullock Buoy, and he said he thought the fog might lift. Presently, still keeping on our SS.W. course, we came up to a black steam tramp of about 3,000 tons with a cargo of timber. She was brought up to her anchor, and the man forward was busy ringing the ship's bell.

Getting a little tired of this, and seeing that the fog was determined to hang about for the day, now lifting for half an hour, now coming down again, we decided to give it up and to run back, not to Bembridge, which would be at low water by now, but to Bursledon, as there were still sundry little items that needed the attention of the ship-wright. After that the wind was foul for the next few days, it blew hard and fluked, it thundered, lightened, and rained hard, so Holland looked further away than ever. But at length we set off at midday from Hamble with a change in the wind, got as far as Stokes Bay, lay there becalmed for two hours, and then, picking up a southerly breeze, passed the Warner at 4.40 p.m., the Nab at 5.10 p.m., the Bullock Patch Buoy at 5.40 p.m., and after saving our daylight through the Looe set a course E. by S½S. for Newhaven. We got the side lights and binnacle lamp going - the latter was an electrical experiment this year - and, the wind gradually veering from S. to S.W. and afterwards to N.W., we stood on a course that would bring us about 2½ to 3 miles off Newhaven, so as to be well clear of the land as well of the dozens and dozens of fishing craft, whose nets were everywhere, and whose little splashes of yellow light dotted the sea all around. We had Worthing lights abeam at 9.40 p.m., and finally entered Newhaven piers at 3.45 a.m. We moored in our old berth, bought some mackerel from the lugger Market Maid, and turned in.

But bad weather had been pursuing us, the glass went down, and for the next few days we were compelled to remain in port. It rained and blew very hard from the SW., the sea dashing over the western break-water and making a fine sight. The SS. Bonahaven had to put back to Newhaven, having encountered seas off the Owers "like clifts." We renewed an acquaintance formed the previous year with the skipper and crew of the Iris, of Poole, a 100-ton trading ketch which, with us, had been weather-bound at Dartmouth and now was weather-bound again here. The storm cone was hoisted ashore, the luggers were unable to put to sea, and altogether our Dutch plans were receiving a rude shock.

At length the cone was taken down one evening and the glass began to rise, so we were up early, breakfasted, and by 7 a.m. had cleared Newhaven harbour and set a course for Beachy Head. The wind was SS.W., light, and the tide just making to the eastward. Before 8.30 a.m. Beachy Head was abeam, and, the wind now freshening, we set the squaresail off Eastbourne. Gradually the wind and sea got up after passing Hastings, so we took in about a couple of reefs in the main, lowered squaresail, reefed that, and hoisted it again. But even now we were carrying too much, though our speed was delightful. The waves were rolling up astern in none too pleasant a manner, and the wind was getting strong, so finally we close-reefed the main, keeping the squaresail still up as it was doing excellent service and shoving us along. Off Dungeness the sky took on a coal-black look, the wind got stronger still, the waves more threatening and a nasty thick rain accompanied them. Suddenly a whole fleet of sailing vessels began running for the shelter of Dungeriess and brought up on the eastern side. Barques turning to windward stowed their royals, topsail schooners were making snug, and altogether it was an ominous time. The squalls were very heavy and vicious, but tide and wind were fair, so we decided to keep on. Off Dover we had a most exciting time, and the seas were as bad as I ever want to be in. The nasty backwash from the piers and the heavy squalls from the back of Dover town combined to give us a terribly thrilling time. Steering was very trying and anxious, and the mate went forward with difficulty along the slippery decks, but managed to drop the peak, which eased her to some extent, and not a minute too soon.

From the South Foreland we got into smoother water with the shelter of the land, and we carried our squaresail till well past Deal, entering Ramsgate harbour before six, having saved our tide right from Newhaven to Deal and done a passage of 77 knots in eleven hours, which I think is not bad for a little ship only 21ft. on the waterline. We learnt presently that it had been blowing half a gale, and after a very exciting, nerve-trying day we were not sorry to get tied up and the dinner cooked. We exchanged visits with Mr. Tredwen and his crew, who had followed us along the coast the same day in the barge yacht Pearl.

Here again we had a succession of gales, flat calms, rain, and every kind of damnable weather which a yachtsman could ever expect in even a British summer. But before the end of July we had cleared from Ramsgate by 8.30 in the morning, tacked down to the South Goodwin Lightship, which was abeam soon after midday, and proceeded to lay our course for Calais and Dunkirk. After making due allowance for leeway and set of the tide we had our usual experience, for the wind cussedly shifted, so that we could head no better than S.E. Furthermore, the tidal stream was, of course, very strong, and the breeze was so light that we could barely stem the tide. However, later on the wind freshened, and by means of the patent log, by a careful calculation of the tide from the book of tidal streams, and by taking cross-bearings from the South Goodwin Lightship and Dover Castle we were able to reckon roughly where we should arrive before the tide turned. It was a beautifully clear day. There was nothing much in the Channel except a British battleship, to whom we dipped our ensign, a full-rigged ship at anchor off St. Margaret's Bay, a handful of sailing craft, a Japanese gunboat bound down Channel, and the Dover-Calais packet tearing across the Silver Streak with all the pace that her powerful turbines could give her. Presently, as we got nearer to the other side, we came upon a French fishing cutter engaged in line fishing, but there was little else.

It was a day full of interest from a navigational point of view, for barely had the English shore faded away into nothing than we had got well hold of France. The tide set us down, as expected, till about abreast of Cap Blanc Nez, and we knew that in a few moments the east-going channel stream would begin carrying us along. Having stood into the shore as near as 2 or 3 miles, we went about, and eventually picked up our buoys, entered Calais at half-past six in the evening, and made fast alongside the quay opposite where the packet boats bring up. We remained in Calais for Sunday, glad at last to have got across, but in the afternoon we went into the Bassin Carnot, as a considerable swell was coming into the harbour and we wanted to get some sleep in before the next day. We got our tanks filled with fresh water, took on board bread, fruit, and delicious French cakes, and hoped for a fair wind in the morning.

Our bad luck had now changed, so we hurried through the formalities at the harbour-master's, got through the lock, and were out at sea, clear of Calais piers, by a quarter-past seven. Half an hour later, with a fine breeze from dead astern, we were boomed out, with squaresail set, and footing it in grand style eastwards. Breakfast was soon ready. The tide would be fair for some hours yet; the sun came out bright and brilliant, which lit up the sandy French coast and gave to the sea a lovely emerald-green with the most pleasing of contrasts. Before ten o'clock we had passed the Dyck Lightship, Dunkirk soon faded astern, the Zuydcoote Pass was entered forty minutes after mid-day, and Nieuport was abeam three hours later.

It was an ideal day, the kind of experience you see depicted on posters and the like. The wind was getting us along so well, the squaresail was drawing so beautifully, the buoys were so easily seen, that there was little to do except lie prone on deck, with an occasional touch to the tiller, and watch the panorama of new scenery fly by. As the afternoon wore on the wind gradually went round with the sun, finally stopping at N.E. by N., so the last few miles we had to tack into Ostend; but the tide was turning, and we were inside at a quarter-past eight that evening, and then locked through into the yacht basin.
A day or two spent here listening to the exquisite orchestra of the Kursaal, visiting Blankenberghe, watching the interesting shipping and the quaint cosmopolitan types of humanity, and we were out again, bound for Zeebrugge. But the wind was scant and ahead, so it was not a quick passage. We brought up in the fishing harbour on the port hand, and regretted not having remained near to the entrance that gives access to the Bruges Canal, for long before low water we were aground, and it began to rain in torrents, thundered, lightened, and then rained persistently for most of the night. When the tide made we found a fairly decent berth alongside the quay near a cluster of fishing pinks. It was with no regrets, however, that we cleared from Zeebrugge at the first opportunity in the morning, and after being becalmed once more, with a nasty drizzly rain and a bucking swell, just managed by a matter of five minutes to save our tide into Flushing, thanks to the great help which our square-sail again afforded us. I would never go cruising again without so useful a creature as this. It is so easily handled and looks after itself so capitally that it provides the maximum amount of utility with a minimum of trouble.

We had not long to wait before the lock opened into Flushing harbour and we were at last on the Dutch waterways. A long procession of typically Dutch craft was emerging - hoogarts, barges, ketches, Rhine-schiffs, tugs, tjalks passed out, most interesting and unusual in a thousand respects. We lay very quietly in the first inner harbour on the starboard hand, and after doing the sights - for there are many things to see in Flushing if only you trouble to search for them - sailed up the Walcheren Canal to Middleburg, where we made the acquaintance of the Jamaie (R.C.C. 18 tons) and her owner. Middleburg. with its quaintness and its discordant medley of bells, which in the most compelling manner and the most extraordinary jingle tempt you out of your bunk at night to listen, was full of interest. But there was Veere only 3 miles further on - Veere, with all the bewitching sadness of a bygone history, all the beauty which vivid greens, old buildings, and flaxen-haired children in the costumes peculiar to South Holland can provide. We were sorry when the time came to leave Veere, still unspoiled as it is by the tourist, who has not added to the former charm which Holland used to possess nor improved the natural character of the Dutch peasant. A little craft named the Mave Rhoe came in homeward-bound on her return journey before we left. With a couple of enthusiastic Englishmen on board she had crossed the North Sea from Harwich, and as I had only just finished reading Mr. Charles Pears' book "From the Thames to the Seine," recording his journeys in this little craft, it was passing strange to find her in this out-of-the-world spot.

We sped on, now out of the lock and once more in tidal waters, down the Zuidvliet, through a winding and most interesting region, and, finding that we could do very little against a foul wind and the strong tide of the Engelische Varwater, anchored for the night in the Zandkreek, with scenery around that was far more suggestive of a Norwegian fjord than a Dutch estuary. Mussel-sloops were dredging about our anchorage while we break-fasted next morning, and then, with a fair wind from the S.W. and a fair tide all the way, had another day of excitement. With the course generally in a north-easterly direction and plenty of wind we tore up the wide waters of the East Schelde. The traffic of all kinds was very heavy, and when once past a little harbour of the name of Zijpe the worst bit of navigation in the whole of Holland begins. It therefore amused the weather to conspire right heartily from Zijpe onwards to make a difficulty to become almost an insurmountable obstacle. The strong wind became a series of weighty squalls, the rain, of course, came down as usual, and the serpentine windings of the Krammer and Volkerak channels were followed only with some anxiety. We reefed her down nice and snug, but it came on so thick that one could not see more than one pair of buoys at a time. Great bluff Dutchmen were beating the other way, throwing the pea-green waters from their bows, their crews fighting hard to get some of the reluctant and heavy canvas down and stowed. On either side there were treacherous banks waiting to pick us up, whilst, in between, the channel ran none too widely. Its tortuous route never allowed you for a moment to relax your look-out, for the instant you had failed mentally to tick off each of the myriads of buoys you would have found yourself ashore and high up on the sand from the rate at which the craft was travelling.

At length we arrived at the spot which is - not unreasonably - named Hellegat on the charts. Although the expanse of the Schelde is here quite wide, yet, meeting the Hollandisch Deep at right angles, a bar is formed, and only the very narrowest channel is left on either side. Everyone hates this place heartily, and to-day it looked so dismal and wretched that it might well have been a gate or swatchway to the lower regions. A few days before, we heard that one of the Dutch Government craft had got badly aground here, and her passengers had to be taken ashore in boats.

So we sped on, and the wind began to pipe up rather worse than before. A big barge was abreast of us, so we tightened in our sheets to let him lead the way and, keeping strictly to the centre of the channel, held our breath. With one of us at the tiller and the other watching chart and barge, using the sounding lead occasionally and looking out for a gybe, we proceeded. Suddenly the barge sheered to starboard. Surely he would get aground? He looked back at us, but we preferred to trust ourselves to the chart than to him. Another moment and he was picked up by the shallows, but at last he dragged through. We wondered if his intention had been honest, or whether he was playing a "Riddle of the Sands" trick on us. Any way, we got through without touching, fortunately, and, laying a compass course for a little harbour across the Hollandisch Deep: whose further shore was shut out by the rain, flew madly on, picked up what appeared to be the marks to some sort of harbour, and found ourselves off the entrance. The water suddenly became yellow. Perhaps there was a bar! We had got ahead of our tide, so that it was now not much better than low water, and for a few seconds the suspense was keen. Would we strike on the bar? If we did we should be sorry for it, but at last we rushed in safely to this bottle-necked haven, had a terrific gybe just as we saw a steamer casting off to come out, let go the anchor, dragged all over the soft-mudded harbour, punched the rain-stiffened canvas down on deck, and then, taking a warp ashore, lay off the quay. The next day it blew just about as much, and within ten minutes five great sailing traders and a Dutch yacht came running in with all speed, let go anchors where best they could, and completely blocked up all ingress or egress. There was a general medley of recovering kedge-anchors, shifting warps, and other excitements, with the loss of many tempers and more paint.

From here we proceeded to Dordrecht along a waterway that is about as busy as Piccadilly at midday. Motor-barges, tjalks, steamers, ketches of over a hundred tons each, enormous steel Rhine-schiffs, carrying in each hull no less than 2,000 tons, one powerful little tug perhaps towing a couple of these at a time, with a dozen other craft tied on astern; telegraph ships, hay vessels, a stray botter or two from the Zuider Zee, a hoogarts, sometimes a small Dutch gun-boat - it forms a terrible nightmare when you meet all this gang and a bucket dredger as well swerving round into sight as you beat to windward between a line of buoys. At Dordrecht the expansive steel bridge was closed, so a perfect fleet of shipping was waiting. The two narrow openings are soon closed - a mere quarter of an hour now and again has to suffice - and just as we were heading for what seemed to be the less busy opening a hoogarts, finding that he could not squeeze through the other side, rushed straight across our bows, barely avoiding a collision with our bowsprit, and causing us to check sheets. The result was that Vivette was entirely at the mercy of the tide, was carried on to the support of the swinging bridge, and, in spite of all our efforts, hit twice, knocked her bowsprit inboard, where it jammed tightly against the capstan and started the bitts. It was a thrilling moment, for two more mussel-men were coming astern, and, of course, the dinghy got caught up and remained the wrong side of one of the steel pillars

Finally we got clear, hoisted mainsail again and staysail, and ran into the Woulwever's Haven. Within half an hour we had found an excellent shipwright, and by means of much pantomime, some rough pencil sketches, and the aid of a big Dutch dictionary made him to understand the nature of the repairs. We were thankful that the bowsprit had not smashed, for it was remarkable that it had not, and we soon had the ship looking herself again. We found time to run into Rotterdam, to The Hague, and to Scheveningen, the home of the pink fisher-craft. Then, proceeding down almost to Rotterdam again, we turned up the Ijssel, locked through Gouda sluis into tideless waters once more, and at length, after crossing the old Rhine at Gouwe, sailed up the Aar, Drecht, and Amstel, through scenery very reminiscent of Norfolk, and finally arrived at the gates of Amsterdam.

Mooring here for the night, we presently got into the North Sea Canal and brought up between the two yacht clubs, past which liners, tramp steamers, and the local Dutch types of craft came all the day. We remained here for the annual regatta on Queen Wilhelmina's birthday, and eventually, having achieved all that we had set out to attain, found suitable winter quarters for the little vessel that had been our home for two months, and, since bad weather seemed now to be with us permanently, left the exploration of the Zuider Zee and the Friesland meres till another year.

It had been a holiday full of sport, excitement, and instruction, not a tithe of which one can even outline here. There is so much for every sailing man to learn from the Dutchman and his craft that before one hauls down one's burgee for the last time a great effort should be made to visit the Netherlands. But I do not think Holland is what it was once. Like the Norfolk Broads, there is too much traffic to make sailing on narrow waters an unadulterated pleasure, and if you want thoroughly to protect your-self you need a stout rubbing strake all round your vessel, and a motor that will save you endless labour together with time and inconvenience. The Dutchmen themselves are charming people, and do not disguise the fact of their friendship towards an Englishman. There is now not a suspicion of the old pro-Boer spirit, but a sincere respect for our country and countrymen, most of all for those who have even the slightest affection for ships and the things of the sea.